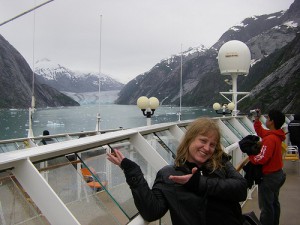 A reasonably accurate picture of me, with a glacier.
Short bio, in which I talk about myself in the third person:
Julie McGalliard is a writer, occasional cartoonist, and trained ghost hunter. In her day job at Seattle Children's Hospital Research Institute she is not, strictly speaking, a scientist, but she is a scientist enabler. She is a 2006 graduate of Clarion West, and lives in Seattle.
About Goth House the comic
The first iteration of Goth House was part of the Throwrug print zine in the early 90s.
About Goth House the website
When Karl stopped editing Throwrug, my friend Ulysses set up gothhouse.org to host the comic, plus blog posts and assorted  other things I wanted to make public. It was also a sandbox where I could play around and learn web design and development. I continued to draw Goth House and put out chapbook collections regularly, until I went to the Clarion West writer's workshop in 2006. After that, I found myself focusing more on writing fiction that was mostly words, so I neglected drawing the comic. Then I got a day job doing web development and design, which, oddly, made me less want to spend my off hours messing about with my own website.
So, gothhouse.org suffered from the inevitable decay of all things, which seems appropriate. Then in 2013 I finally ported the site content to a WordPress site (thanks, Ulysses!).
In October of 2016 I decided to update the site again, to make it more mobile-friendly.