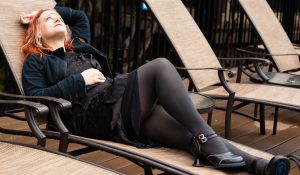 A reasonably accurate picture of me.
Short bio, in which I talk about myself in the third person:
Julie McGalliard is a writer, occasional cartoonist, and trained ghost hunter. In her day job she works at Seattle Children's Hospital Research Institute as a programmer and data scientist. She is a 2006 graduate of Clarion West, lives in Seattle, and travels to New Orleans a lot.
Books by Julie McGalliard
Short fiction by Julie McGalliard
"Yes, I'm a Witch," anthology Witches, Stitches, and Bitches
"98 Hill," Space Grunts: Full-Throttle Space Tales #3
"Persephone Eats Winter," Talebones #37, Autumn 2008