When I went to Clarion West, I had a room of my own.
It was a room designed to hold four young sorority women during the normal academic year — I had my choice of high bunk or low bunk on two different bed sets. There were two desks I could choose to work from. There was a painted frieze running along each wall, up near the top of the room. I can't remember now if it was purely abstract, or if it incorporated leaves or vines of some kind. I do remember that it was rather inexpertly done, and theorized that it had been done by one of the young sorority women.
After a week alone in the room, I remodeled everything. I acquired a one-inch foam pad to sleep on, a 3' black square folding table to use as a desk, and had covered the frieze with postcards and pages from my photo album, using a white putty I bought from the University of Washington bookstore.
When you spend a lot of time in one space, its little deficiencies and inconveniences can magnify into huge, overpowering, obsessive distractions, just like in "The Yellow Wallpaper."
Because of the COVID-19 pandemic, I've been "sheltering in place" since March 11. I know the date, because the last thing I did in the outside world was drop off my primary ballot at Uwajimaya, then go to work at my downtown office, which was already as empty as if it were a Sunday.
You'd think that never GOING anywhere would create more time in a day, but any time saved by not commuting and not going out was more than offset by the time required to cook and clean up after cooking, and to arrange and clean the spaces in my own apartment to be sufficient for things like working from home every day or doing yoga.
A mess, I find, grows more intolerable the longer I'm forced to stare at it.
But it's not just obvious mess, dirty dishes and empty seltzer cans, that becomes oppressive. Things that are orderly and clean, but not quite right, those can also become burdensome. The corner that never has enough light, the bedroom that never has enough floor space, the object that you put in that spot because there was technically space for it, but now it's started to bother you because it doesn't really belong there. Maybe it doesn't belong anywhere. Maybe, after ten years living in the same apartment with that thing you moved from the last apartment and put there merely because there was technically space for it, maybe that thing needs to go.
But Goodwill is closed. The banished objects can't leave. The closets are filling up.
During an earlier Write-a-thon, I observed that a frequently overlooked benefit of the actual writing workshop is: no housework
Even Virginia Woolf, when she famously wrote, "a woman must have money and a room of her own if she is to write fiction," didn't specifically single out the oppression of domestic responsibilities as a thing women writers in particular needed to escape from. And yet, isn't that what a room of one's own is? A place where you can shut the door and force the other members of the household to find their own socks and make their own breakfast? And, ideally, a place where, when you do shut the door and start writing, there's nothing in there to remind you of anything you think you need to do, other than write. No unsorted mail or grocery lists. No carpet that needs to be vacuumed. No dirty dishes that need to be taken care of.
This, right now, is my writing desk: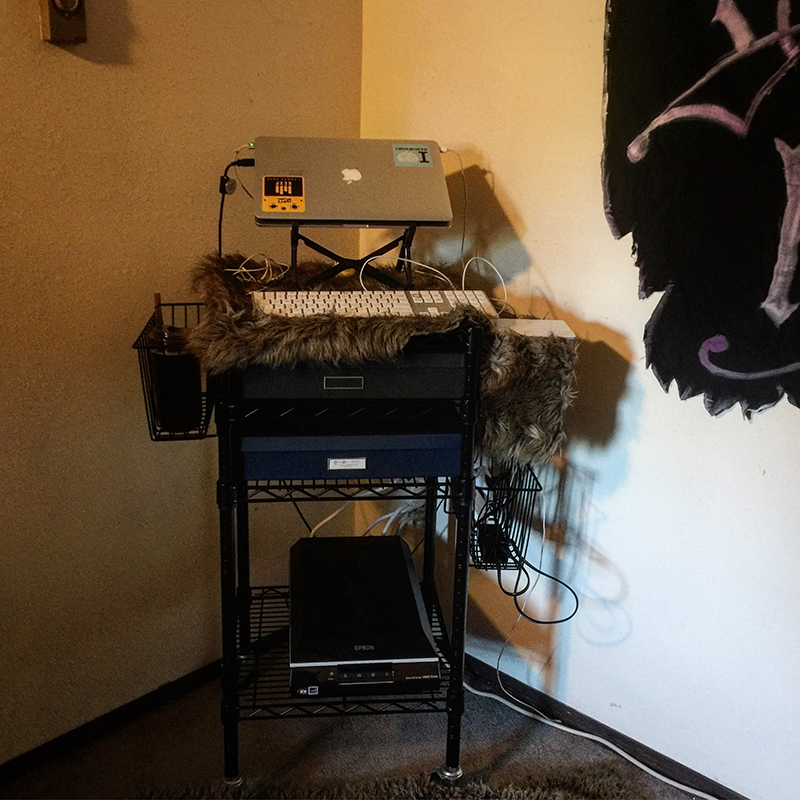 It's upstairs, in a portion of the bedroom where I cleared out a large enough space that I can do yoga there, provided I push a rolling clothes rack out of the way first. But I don't mind that aspect of it. The clothes rack is a visceral signal about the identity of the room: a normal couples' bedroom when it's in place, my own private writing and yoga studio when it's pushed off to the side.
It's enough.
Time to get writing.