Two weeks ago Paul & I went to Sasquan, the Spokane Worldcon.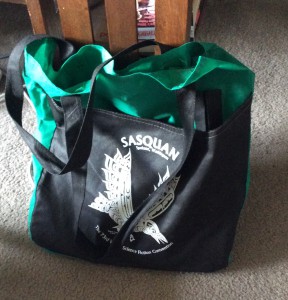 It was his first time on a Worldcon committee, although he did put together the program book for the Seattle NASFIC. At Sasquan he ran literary beers. A few months ago this seemed like a good idea (he likes writers; he likes beer) but in practice he found it ate up too much of his on-site convention time. We hardly managed to see any programming together, not even the Hugo Awards. I watched them from the second balcony of the theater, while he watched from the convention lounge area, "Guinan's," the location of the literary beers.
We did watch the masquerade together from Guinan's. I rarely watch the Worldcon masquerade, but since I wandered into the lounge to find out if Paul was done for the evening about when the masquerade was supposed to start, it seemed like the thing to do. Overall, it was a pretty good show and the win for the Victorian Justice League group costume was well-deserved.
Continue reading Sasquan report and final 2015 Hugo thoughts