Ran into this article, titled "Why most evangelicals don't condemn Trump," and started getting steamed. So, it's Sunday, time to engage in the modern version of that time-honored evangelical tradition known as "complaining about the sermon in the car on the way home from church."
First, it's written by somebody called Gary Abernathy, publisher and editor of the (Hillsboro, Ohio) Times-Gazette. So, standard disclaimer — I am an ex evangelical of the Pacific coast, and this might give me a different perspective than an ex evangelical of the midwest. With that out of the way, let's get to it!
Evangelical Christians voted for Donald Trump in overwhelming numbers. Evangelical support for the president remains relatively firm; indeed, even as others criticized the president's remarks in the wake of Charlottesville, evangelical leaders rose to the president's defense. All of this gets under the skin of President Trump's critics, who cannot believe that men and women who think of themselves as godly can possibly stomach Trump's behavior. For such critics, the only possible explanation for evangelicals' continuing faith in Trump is some combination of ignorance and hypocrisy.
Interesting thing, it is possible to be a politically liberal evangelical, although white, politically conservative evangelicals will inevitably tell you that you're not a "real Christian" if you are. Conservative evangelicals like to claim that they speak broadly for all evangelicals, indeed, for all Christians, and rarely get called on it. Their pose is often that they are explaining themselves to a secular audience with no direct experience of any Christian religion, and certainly no direct experience of conservative evangelical Protestantism.
For example, this Tweet from Matt Walsh: "Note to non-Christians: stop telling us what our religion does and does not teach". I'll wager he has no real idea about whether whether his critics — people pointing out that his ideas aren't very in line with the teachings of Jesus — are Christians or not, but he doesn't care, because as a conservative evangelical, he holds no other Christian perspective to be "really" Christian.
Similarly, this essay assumes that critics of the president cannot themselves be Christians pointing out the hypocrisy of other Christians.
Conversations with actual evangelical Christians at a recent gathering here [..] suggest a different picture. These voters [..] see Trump's flaws but perceive him as a fellow sinner willing to fight the forces of the establishment on their behalf.
I find it curious that he thinks this evangelical perception of Trump isn't the result of hypocrisy, given how often conservative evangelicals claim their political views are centered around what they consider proper sexual behavior. I mean, I once sat through an honest-to-goodness sermon in an honest-to-goodness evangelical church that was based entirely around the proposal that President Bill Clinton's improper sexual behavior, and his deception regarding that, was absolutely the worst thing a president could ever possibly do. (And boy howdy, you can believed we complained about that sermon in the car on the way home afterward.)
The hypocrisy around evangelical support for Trump isn't new — for decades now it has been obvious that conservative evangelicals will support Republicans when they lie, cheat, and steal, while being quick to condemn Democrats for the same behavior. This hypocrisy is why I am an EX evangelical. But Trump makes it particularly stark. He's simply a bigger liar, a bigger cheater, and a bigger thief than any previous Republican to hold that office. Most of the time he doesn't even bother pretending to be a Christian, or even a halfway decent person.
Echoing the views of many present, one evangelist on hand told me Trump hasn't let him down. The barrage of negative press hardly rattled him or most of his colleagues, who see the mainstream media as anything but friendly to their opinions and their faith.
And yet here you all are, getting your say in the Washington Post.
This "the whole world is against us" thing has been a part of white evangelical culture since I was a kid in the 70s, even before the religious right took over, and I've gotta tell you, even as a kid I thought it was ridiculous. Evangelicals were always trying to bask in the reflected, persecuted glory of martyrs, of Christians thrown to lions by the Romans, of people smuggling Bibles into the USSR, of Dietrich Bonhoeffer (noted anti-fascist), creating this narrative where they're beleaguered and suppressed and persecuted and defiantly righteous in the face of tyranny and evil — basically, they want to see themselvs as this person on the cover of a Keith Green album: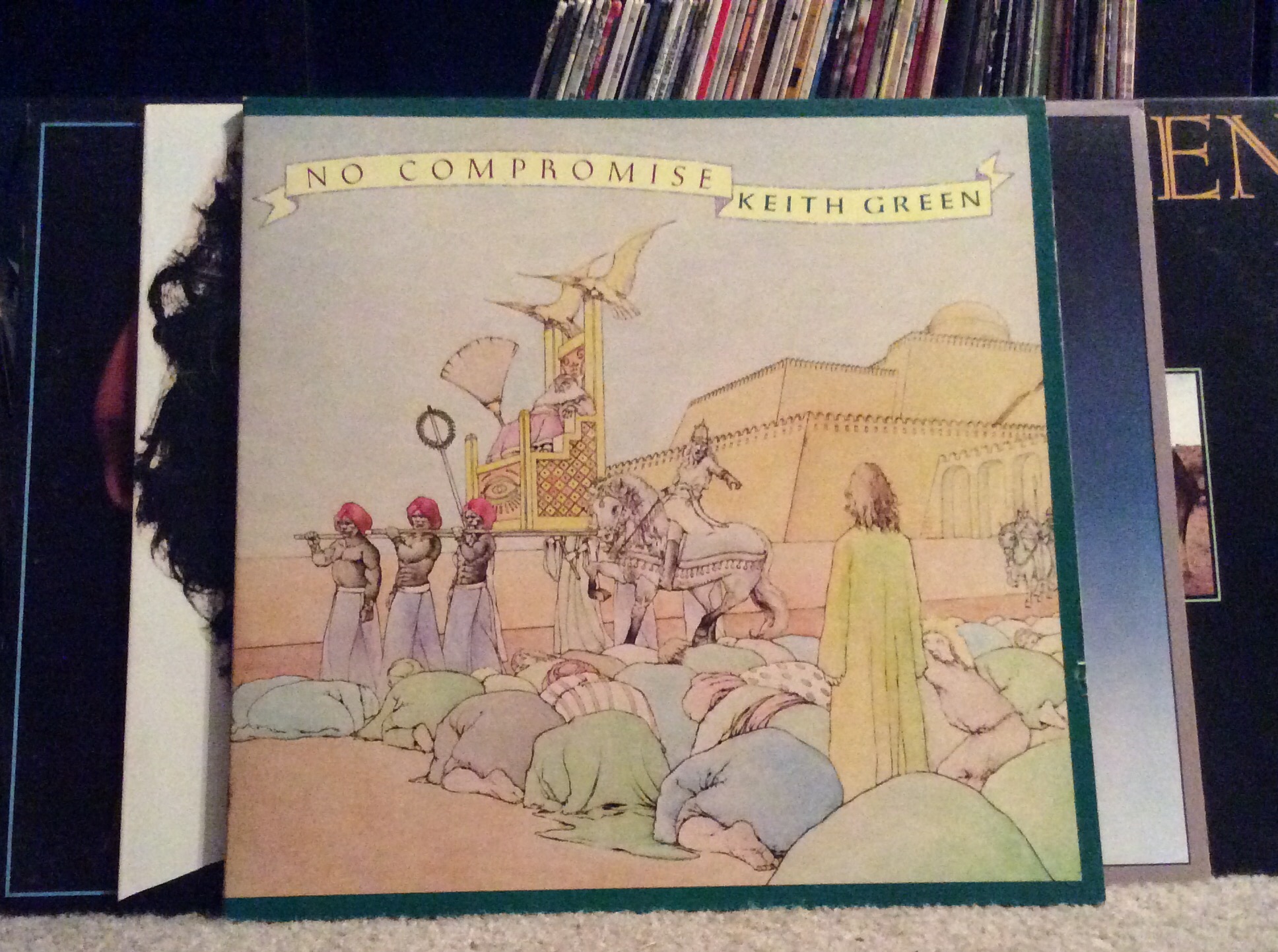 But it's never been true. They merely perceive a culture that isn't entirely centered around themselves as "persecution."
Another minister told me he appreciates that Trump has no hesitation taking on "the reprobate left" that considers the president "an enemy of their established power system."
Any fan of Donald J. Trump has got a helluva nerve calling anybody else a "reprobate."
Evangelicals, I know you don't want to face this, but it's true: your support of Trump means that nobody ever again has to take your claim of the moral high ground  seriously. You have revealed yourselves to be unprincipled political opportunists first and — well, there's not really a second. If Jesus came back today he'd stride into your mega-churches and start flipping the tables.
Evangelicals do not always fit stereotypes. Among those attending the family camp were everyone from farmers, plumbers and carpenters to real-estate agents, doctors and lawyers.
Um… what evangelical stereotypes does any of that defy?
Evangelicals tend to share conservative positions on abortion, gun rights, border security and the fight against "radical Islamic terrorism," as they usually make sure to phrase it.
Haha, "share" conservative positions, AS IF THE RELIGIOUS RIGHT IS NOT PRIMARILY RESPONSIBLE FOR THEM.
But more than anything, Trump's specific pledges to the religious right got their attention.
Uh-huh, and what exactly would those promises be? Some variation on "all this will I give you if you just fall down and worship me?"
He has followed up with invitations to the White House, sought input on court appointments, stood firmly with Israel and signed an executive order expanding religious freedom in regard to political speech.
Yep, nailed it.
Another minister said he grows tired of hearing criticism of Trump on character issues.
YEAH I'LL JUST BET YOU DO.
In the Bible and throughout history, "God uses rulers who aren't themselves godly," he said, pointing to the Old Testament example of David, a murderer and adulterer whom God later made king and eventually called "a man after my own heart."
So many things to unpack here. First, the rank hypocrisy of judging liberals and Democrats harshly on those very same "character" issues. And then the cruel hypocrisy of claiming that issues of "sexual morality" are vitally, crucially important when it comes to stripping civil rights from women and LGBTQ people, but not when it comes to evaluating Trump. And if you're going to talk about God "using" rulers, USE THEM TO DO WHAT? And, finally, the President of the United States of America is not a "ruler." I think you've just accidentally revealed more about why you support Trump than perhaps you meant to, by characterizing him that way.
That Keith Green cover up there? Put Trump's face in that chair, and you conservative evangelicals become the people bowing down to him. Still deny that you are hypocrites?
the president also sends more subtle messages on the subject of faith vs. science.
Ah-hem. Dear evangelicals:
THERE SHOULD NOT BE SUCH A THING AS FAITH VS. SCIENCE.
Think about it. Do you not believe that your God made the universe? Well, science is the honest study of the universe as it is. So, you're basically pitting your version of God against the study of CREATION ITSELF. I mean, seriously.
Also if you're trying to claim that evangelical support for Trump isn't based on ignorance, pointing out that conservative evangelicals have a more or less official anti-science position is not the way to do that.
For example, when Trump refuses to fully adopt the conclusion that climate change is due to man-made influences, he demonstrates an affinity with evangelical Christians who do not blindly accept every scientific theory.
People don't "blindly accept" scientific theories, that's the whole point of science, you — you —
Ignorant hypocrite.
Evangelicals tend to believe in biblical teachings on the origins of the universe and the advent and purpose of human life. They do not accept that their existence is nothing more than the result of a random cosmic accident, or that life is so meaningless that it ends in the grave.
Creationist evangelicals don't believe "biblical teachings" on the origins of life and the universe, they believe a specific human-created theory about those origins, based on a radical and deliberate misinterpretation of the creation story in Genesis. Notice how this implies that everyone who isn't an evangelical must therefore be a rigid philosophical materialist, as if there isn't a whole range of approaches to faith and meaning.
They also know they are considered by many to be superstitious or ignorant for adhering to their beliefs.
Only those beliefs that are superstitious and ignorant.
And don't try to tell tell me that evangelicals aren't prone to superstition and willful ignorance, buddy, because as I have mentioned before (over and over) I am an ex evangelical. and I know as much about them, in general, as anybody still practicing the faith.
The things in which they place their faith are not demonstrable in any laboratory.
Um, yeah, me too. That's because faith and science aren't the same thing.
I don't place my "faith" in science, unless you mean "faith" in the sense that I put my faith in the science of aviation every time I climb into an airplane, or that I put my faith in the science of gravity nearly all the time. "Faith that airplanes work" is not the same as "faith that the universe means something" or "faith that it's worth trying to do good even if you fail."
Most evangelical believers don't condemn Trump for the litany of words or deeds that so disturb others, even when they disapprove.
OH YOU MEAN THE PART WHERE HE LIES, CHEATS AND STEALS, MOCKS THE DISABLED, ENCOURAGES WHITE SUPREMACISTS, AND BRAGS ABOUT SEXUAL ASSAULT? THOSE WORDS AND DEEDS? ARE THOSE THE ONES YOU ARE TALKING ABOUT?
Probably half the people in churches across the country defined as "evangelicals" were converted from lives that were even more unprincipled than the life Trump has led.
As an ex evangelical, raised in the church, I do not believe this. I think most evangelicals were raised in the church, and those who converted, converted mostly from ordinary lives where they followed other types of Christianity. (Although I could be convinced by evidence to the contrary. You know, science.) I do know that the evangelical faith narrative is perpetually one of being converted from, though, which leads to some weird practices, like endlessly "rededicating" one's life to Christ.
Some experienced divorces, others used foul language, and many were addicted to drugs or alcohol.
Oh. For the love of —
Some "experienced" divorces. They didn't get divorced — which, let me remind you, male-initiated divorce is something Jesus actually condemned — they "experienced" divorce. It just happened to them.
They used foul language. FOUL LANGUAGE EVERYBODY. They maybe said the f-word one time. WOW THAT IS SO ON PAR WITH EGGING ON WHITE SUPREMACISTS AND BRAGGING ABOUT SEXUAL ASSAULT.
And they might have been addicted to drugs or alcohol. You know, because being addicted to something is "unprincipled."
Where's the lying, cheating, and stealing on this list?
In most cases, no immediate miracle happened with regard to their behavior at the moment of their confessions of faith or their emergence from the baptismal waters.
No, it took them years to turn into the judgmental hypocrites they are today.
They know Donald J. Trump is not worthy of the grace of God, because neither were they — which, to them, is the mystery and beauty of this undeserved gift.
HEY YOU KNOW WHAT YOU HAVE TO DO TO BE SAVED
IT'S REALLY AMAZING, CHECK IT OUT
IT'S IN THE BOOK OF MATTHEW
For I was hungry and you gave me something to eat, I was thirsty and you gave me something to drink, I was a stranger and you invited me in, needed clothes and you clothed me, I was sick and you looked after me, I was in prison and you came to visit me. [..] Truly I tell you, whatever you did for one of the least of these brothers and sisters of mine, you did for me.
Listen up, evangelicals. This talk about Trump — "oh, he's imperfect, but we're all imperfect" — might work to fool yourselves, BUT YOU ARE NOT FOOLING ANYONE ELSE.
We see you. The world sees you. The converted, the unconverted, the apostates — we all see you, and we see you pretty clear. We see you you make excuses for Trump that you would never make for Bill Clinton. We see how quick you are to claim "morality" when you oppose same-sex marriage, but "we're all imperfect" when you support the multiply-married Trump. We see your resounding silence about Trump's embrace of white supremacy. We see how you care more about being "allowed" to say "Merry Christmas" than about making sure people are housed and fed at Christmas.
This is your ministry, white conservative evangelicals. This is your "good news" that you're proclaiming to the world.
We see you.
And we will not forget.